Iwata Snow Festival 2016 is coming soon!
 Iwata Snow Festival had been originally held as a winter event of Family Festial in 1988.
Its event has been renewed and started as new name "Iwata Snow Festival" due to the community integration in 2005. (→History) 
It rarely snows in Iwata city and it motivated us to make many childrene to be smiled and have lots of fun by holding this event.  
Evey year, we make a big snow slider and free space for playing with snow and making a snow man. 
We are loonking forward to seeing you at our event.
This event is supported by a subsidy from Iwata city and suponserd by local private companies.
We are sincerely looking forward to you visiting our event this year!

Date: Feb. 5th (Sun)  *We will hold a event even if it rains.
Time: 9:00-15:00   

Location: 2-14-2 Imanoura, Iwata city, Shizuoka Prefecture
Agenda: ○Snow hill &  Snow plays with 100t amount of snow
             ○Stage Program
             ○Snow hill program
             ○Shops and food/drink market etc.
We plans pre-snow festival at Lala Port Iwata , North-Hiroba 
 Greeting from event organizer team leader
Hello, ladies and gentlman. My name is Chiaki Adachi, who is a team leader of this event 2017.
The snow festival of 100t amount of snow is coming soon in Iwata as before.
All of us are very busy with preparation and waiting you to come to our event.
We are welcoming all boys and girls who come to the event every year as well as a first time to be here!
Is anybody interested in our snow festival? We need your great support!
We are waiting more members to support the event.  Let's have lots of fun with us and create winter event for all kids in Iwata!
Many members made lots of friends though this event volunteer and you will be one of us !
Chiaki Adachi, Iwat Snow festival Organizer Team 2017.
 Here is a short clip of the previous event. Please have a look.
We are looking for Iwata snow festival volunteer members 2017!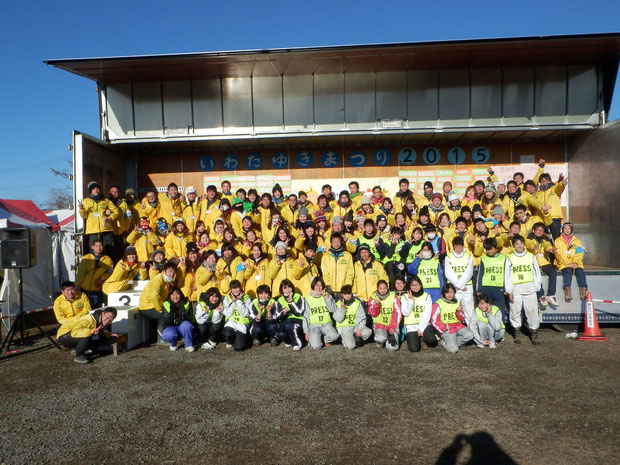 Volunteer condition:  Aged from 18 to 35 years old with an energetic heart.
People who wants to start something new, have fun with friends, love Omatsuri, make friends …etc.
Why don't you join our event volunteer team?? 
You can join us even if an event preparation has been started… Let's have fun together with us!
≪ Previous activity≫ 
◆ New member guidance
Date:2016. Sep. 21 Wed. 20:00~
Place :Iwata city office west building 3rd floor meeting room